1969 – 2017
For a short bio, please refer to the Press Kit.  If you'd like more information, below is a longer biographical sketch.
CLICK HERE FOR PRIOR INTERVIEWS, REVIEWS & MEDIA EVENTS
More Than You Probably Need to Know

 
Jeff Carlson was born on the day of the first manned moon landing and narrowly escaped being named Apollo, Armstrong or Rocket. His father worked for NASA Ames at the time. His granddad on his mother's side was a sci fi fan whose library included autographed copies of Isaac Asimov's Foundation trilogy. Guess what they talked about.
Big ideas in small brains sometimes lead in unique directions. Although active in his youth in soccer and baseball, Jeff also spent a lot of time reading Frank Baum, James Michener, Jean M. Auel, Stephen King, John Irving, Wendy Pini, John Varley and Joe Haldeman.
Mom and dad probably should have made him watch more TV. More than anything, what those writers taught was scale, the idea that the world is larger and much stranger than Hometown U.S.A. With a head full of independence, Jeff left high school at age fifteen after acing the California High School Equivalency Exam.
Don't try this at home, kids. A good chunk of his newfound freedom was spent on such thrilling activities as running a cash register at Super 7, but he also wrote an epic novel of a million words, borrowing heavily from The Stand and The Hotel New Hampshire. That's right. A hauntingly beautiful apocalypse. The book garnered no more than the usual rejection letters, but another thing Jeff had learned was the persistence of vision.
He attended college in Arizona, where he earned a B.A. in English Literature.
Soon he moved back to the coast after buying a sport coat, taking meetings in Hollywood and acquiring an agent. Ultimately, returning to California proved to be the best decision of his life because it led him to his wife, Diana, who is smart and pretty and sweet.
Like many creative types, Jeff has a ridiculous employment history. From the semi-autobiographical short story "Meme" published in Fantastic Stories:
"There is no such thing as a part time job that is both meaningful and well paid. Most aren't either. Including his stints as a gas jockey during high school, Alan Lilly has held nineteen positions in at least seven separate fields, so his expectations are as low as mud. Driver, pressman, salesman, waiter, phone rep, cashier — he rarely stays more than twelve months, and several times he's quit after one shift.
"He is not a slacker, thief or troublemaker. He's a musician. He has better things to do."
In real life, Jeff has also worked in construction and in credit investigation. Most recently he is a House Dad Writer Guy, spending a lot of time with the Uncanny X-Men, Ben 10 and Warriors (as well as stealing rare minutes with the work of writers like Jonathan Maberry and Robert Crais) while finding room for his ninth novel; a tenth novel in collaboration with David Brin; skiing; backpacking; NFL games; South Park; Jethro Tull; and sushi-and-a-movie dates with his wife.
Jeff's first novel, high concept thriller Plague Year, sold to Ace/Penguin USA after a small bidding war between two publishers and strong interest from a third. Plague Year hit stores everywhere in mass market paperback in August 2007. The book immediately went to a second printing, a third, a fourth… all the way through eight editions.
Audio rights sold to Recorded Books, who released Plague Year as narrated by stage actor Richard Ferrone. There was a film option (since expired) and several foreign rights deals. More recently, Audible.com purchased new audio rights to Plague Year and released a new audio version narrated by Jeffrey Kafer.
A sequel entitled Plague War was released in North America in July 2008 and became a finalist for the Philip K. Dick Award. The third book in the trilogy, Plague Zone, was Ace/Penguin's lead paperback for December 2009 and received nationwide displays in Barnes & Noble and other chain outlets.
In Europe, Spanish language rights to Plague Year went to Minotauro in a preemptive bid over its rival publisher Plaza RHM. Retitled La Plaga, Minotauro released the novel as its lead hardcover for September 2008 backed by a massive promotion campaign including newspaper ads, radio spots and spectacular book store displays. La Plaga quickly became a bestseller in Spain. The next two novels, retitled Antidoto and Epidemia, followed in 2009 and 2011. Minotauro also distributed the books in Central and South America.
German rights to the trilogy went to Piper Verlag in best bid auction over its rival publisher Heyne. Retitled Nano, Piper released Plague Year as its Book Of The Month in September 2008. The trilogy has also sold in the Czech Republic, the Netherlands, Turkey, Romania and Russia.
Late in 2010, Jeff republished his short story "The Frozen Sky" on Kindle, Nook, iTunes and Kobo. It shot into the Kindle Top 500 alongside Hugh Howey's Wool.
In 2011, its success was followed by his short story collection Long Eyes.
In 2012, Jeff sold apocalyptic thriller novel Interrupt to 47North, the sf/f imprint of Amazon's new publishing wing.
Also in 2012, he also released an all-new novel of The Frozen Sky to acclaim from sci fi greats like Larry Niven and Allen Steele. Japanese rights to The Frozen Sky went to Tokyo Sogensha, German to AmazonCrossing, Dutch to Uitgeverij Macc, Hungarian to Metropolis Media. In the U.S., to date, The Frozen Sky has sold nearly 100,000 copies via ebooks, print and audio.
Published on July 23rd, 2013, Interrupt quickly hit Amazon's bestseller lists.
For a hyper-analytical sci fi writer, working with 47North was a delight. Amazon provides hourly rankings and real-time sales data as well as futuristic communications directly to readers.
On July 24th, Interrupt jumped into the Top 500 of all Kindle ebooks. On the 26th, it hit the Top 50. It spend an entire month in the Top 250 and another sixty days in the Top 1000. Meanwhile, Russian rights to Interrupt went to EKSMO in a bidding war with rival publisher Centrepolygraph.
In 2014, Jeff released a sequel to The Frozen Sky entitled Betrayed.
Early in 2015, he was badly injured while muscling a 400 pound rock across his back yard, which is an idiotic and boring way to get hurt. (For what it's worth, the rock is embedded with the fossilized remains of 12-million-year-old mollusks; it's an extraordinarily cool rock.) Doctors, X-rays and physical therapy were painful and expensive. Worst of all, the injury was time consuming.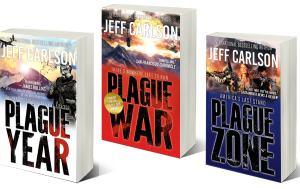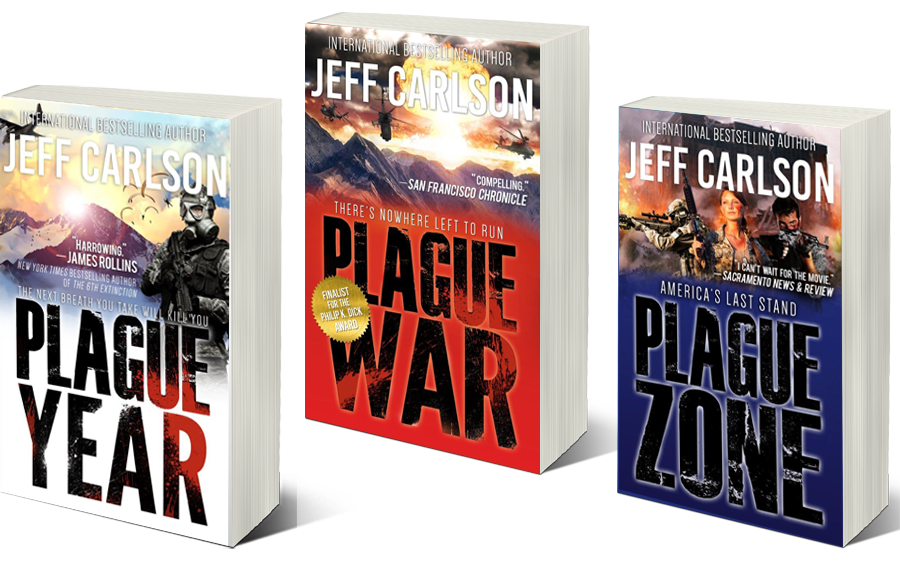 Meanwhile, rights to the Plague Year novels reverted from Penguin.  Jeff re-released the trilogy with new cover art, 50 pages of new story, and new interior art including the killer nanotech schematics by super fans Jeff and Ashley Sierzenga.
In 2016 and 2017, two more sequels to The Frozen Sky completed the four novel set of the Europa Series.  The new novels are Blindsided and Battlefront.
Jeff's collaboration with David Brin is the first of an adventure series entitled Colony High with at least two more books already outlined. Jeff also writes parenting articles and has a nonfiction book proposal in the works as well as a collection of humor and how-to essays about life in the trenches as a house dad.
His short fiction and essays have appeared in fifteen foreign languages: Czech, Dutch, Esperanto, Estonian, French, German, Greek, Hebrew, Hungarian, Italian, Polish, Portuguese, Romanian, Spanish and Turkish.
Jeff lives with his wife and sons in California, and welcomes correspondence via email.
He can be found on Facebook and Twitter at www.Facebook.com/PlagueYear and at @authorjcarlson. Reader reviews on Amazon, Goodreads and elsewhere are always appreciated.