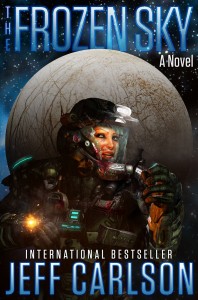 First:  I'm alive.  I know it's been quiet for a few weeks.  With the holidays and a killer deadline, I've been a busy little duck.   Back now!
Second:  How's this for an awesome new endorsement of The Frozen Sky!?!?!
"The Frozen Sky combines Golden Age roots with modern-day sensibilities to create a story that is gripping, intelligent, and entirely new.  Highly recommended."
–Seanan McGuire, New York Times bestselling author of  Midnight Blue-Light Special
Wow.  THANK YOU!!
Third, the Plague Year trilogy has sold in Dutch to a publisher with the awesome name of MACC Zilverspoor, which makes me think of Roger Zelazny, precious metals, and the evil, alien, interstellar spoor seeds from Invasion of the Body Snatchers.  Zilverspoor.  How can you go wrong with a name like that!?   


Zilverspoor has posted the Plague Year book trailer on their site with announcements that I can't read in their extremely cool language.  Check it out!  I love the extra vowels.  It looks a bit like Czech to me.  My editors there are good, enthusiastic, and knowledgeable.  I can't wait to see the books.
More soon.